Planning or attending an Exhibition? Want something different to make your stand or stall stand out from the rest? Want to make a real visual impact or maybe allow clients win prizes whilst with you?
Well, here at Altitude Events we are sure to have something for you. Ranging from the challenging to visually impressive, below we have put together the 5 most popular activities that will draw clients to your stand leaving you to interact with them.
And the best part? Here at Altitude Events we provide everything required from clean, presentable and well looked after equipment and staff to all the boring paperwork including risk assessments and insurance (£10 million). We really take the stress away from your activity booking!
Exhibitions Top 5 Activities!
5. Digital Graffiti Wall
Step up and create your own digital masterpiece on the Digital Graffiti Wall using the latest in electronic spray cans, brushes and marker pens(!). Use either pre-installed pictures, upload company logos, use as an ideas board, or take pictures on site and upload creating new artworks throughout the day! And once complete, why not print it out and keep or, better still, upload to social media via our set-up (internet connectivity required). Min age 8yrs.
Find out more about our Digital Graffiti Wall here!
4. Grab-A-Grand Cash Grabber
Complete with a digital timer and colour changing lighting effects, our sleek Grab a Grand tank is definitely a real crowd gatherer! Beat the clock and gather as much cash as it swirls around you; how much can you collect in 30 seconds?!
The Cash Grabber can be played with branded tickets, vouchers or even real money – anything that can be printed on paper!  Perfect for clients to get involved and have fun! Min age 6yrs.
Find out more about our Grab-A-Grand Cash Grabber here!
3. Batak Pro
The Batak Pro is an incredibly addictive game that tests people's reactions. Featuring 12 LED targets that are numbered and arranged in a 'maximum stretch' type configuration, the targets may be lit up in either random or repetitive ways depending on which of the 31 game modes you select. Games can be set to last between 30 seconds and 5 minutes if you want a real work out! The Batak Pro reaction game is suitable for hire for both adults and children alike as using the various game modes we can easily turn off the highest rows of buttons for events with lots of children attending.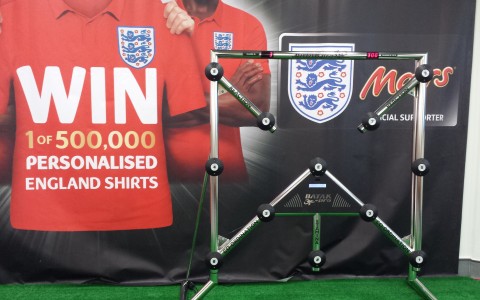 Find out more about our Batak Pro here!
2. Race Simulators
Got a little bit of space to fill? Then Altitude Events have top of the range Vison Racer style Racing Simulators that can be set up for multiplayer simulator racing on your stand!
The Multiplayer Racing Simulators can be linked up to play against each other on a head to head basis or they can be set up to each run different games so you can have a variety of disciplines represented including F1, Race, Rally and Sports Cars. Each Multiplayer Racing Simulator has a real racing seat, steering wheel (with force feedback function), pedals, gearstick, 40″ HD flat screen monitor and a full on board surround sound system including a Bass kicker mounted to the seat to emphasis the feel of the driving experience. We can set the Racing Simulators up for head to head multiplayer racing or best lap times. The Racing Sims have a massive range of vehicles and tracks (including the Top Gear test track) to satisfy most requests. All Racing Simulator hire packages include a Top Gear style scoreboard if required as well for no additional fee.
Find out more about our Race Simulators here!
And in at number 1: Giant Buzzwires!
A bit tight for space then our Buzzwires are ideal for you! We can supply a complete Free-Standing Buzzwire or a Desktop version. Both come complete with wands, lights and sounds to really test the nerves of clients as they battle their way to the end!
Find out more about our Giant Free-standing Buzzwire here and Giant Desktop Buzzwire here!
Back to News