The Euro's are around the corner and here at Altitude Events, we have seen a rise in events wanting to join the fun with some exciting activities being laid on for their own Euro 2020 parties!
This June and July, The UEFA European Championships are being held all over Europe, with the Semi-Finals and Final being held in the iconic Wembley Stadium.
Running from the 12th June to 12th July 2020, we have a multitude of activities that can be used to bring that Euro 2020 feel to your event! But we suggest you book early, you don't want an early Red Card with dates going fast!
HUMAN TABLE FOOTBALL
Human size Foosball! Yes, this full-size Human Table Football inflatable allows up to 10 people to get strapped in and become the players. Two 5-a-side teams line up against one another in this truly hilarious and fun version of football that equals the playing field so both men and woman, adults and kids can join in.
Complete with an Altitude Events qualified ref(!), teams are made up of one goalie, two midfielders and two strikers. Skill, determination and a huge amount of luck (sorry no VAR!) allow players of Human Table Football to pit their wits against friends and family in a fun and safe environment.
Whether you want to arrange your own tournament or just a friendly activity, our top of the range unit allows better gameplay and experience for all.
BATAK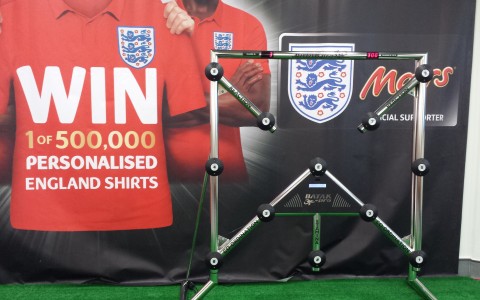 Players, and more importantly Goalkeepers, need tip-top reactions to make sure they don't concede! Batak is a light reaction game that tests not only reactions but also your coordination! Brilliant fun and highly competitive, Batak has all the attributes to get players to keep coming back for more.
Consisting of 12 buttons on a square wall, how many can you hit out in 30 seconds? 1 minutes? 5 MINUTES?! It's a challenge but one that both adults and children alike thrive at! Complete with a scoreboard, Batak is truly for everyone!
Ex-Liverpool Goalie Pepe Reina took the Batak Challenge at their 2013 Kit Launch. See how he got on here.
FOOSBALL AND PUB GAMES
Nothing beats watching the matches with your friends and family with some food and drink and a few games down the local! But things are changing and we have attended a huge amount of private parties and events when big sporting events are on.
Altitude Events have an increasingly popular range of Pub Games that can be brought right to you! Classics include Foosball, Pool, Air Hockey, Table Tennis and Bar Skittles. All of our Pub Games high-quality commercial units just like the ones you find down the pub with the exception of spilt drink marks!
So stop putting your pound down in the long queue just for one quick game, see what Pub Games Altitude Events can bring to you and your event!
ROLL A BALL FOOTBALL PLAYERS
Roll up to that classic British attraction – an alternative version to the Kentucky Derby with our BRAND NEW Roll A Ball! Take part in that classic fairground and seaside pier game as you Roll and Bowl your way to the finish line. Now complete with a Football design ready for the Euro's or World Cup!
The Footballers are lined up at the start and away you go in the dribbling race. Complete with built-in lighting, sounds and commentary, score points by bowling the balls provided through the designated coloured holes. With up to 4 players battling it out per game, the more points gained, the further and faster you move along the derby race track!
DIGITAL GRAFFITI WALL
If you're a football fan, sports or fashion fan in general, Kit Launches are huge deals. The design, traditional colours for home kits and unusual and unique away kits always attract criticism or praise. Now you can step up and design your very own kit with our Digital Graffiti Wall!
Get creative with our electronic spray cans and make all the key decisions for your very own kit! Complete with an 8ft screen, instant photo printer and social sharing, our Digital Graffiti Wall definitely brings out that spark that the mainstream kit manufacturers lack(!).
See more about the Digital Graffiti Wall here!
Altitude Events Ltd
Here at Altitude Events, all electronic equipment is PAT tested, all inflatables are safety tested and staff are fully trained and CRB/DBS checked. All equipment is clean and well presented and everything that is required for a hire is included (i.e scoreboards, wiring etc). With Altitude Events you know what you are getting, and we have never let down a booking.
Altitude Events is based on the Surrey/Sussex border and we offer activities for hire throughout East & West Sussex, Kent, Surrey, Hampshire, Berkshire, Essex, London, Hertfordshire and Buckinghamshire. We literally deal with anyone and everyone and work on a huge range of events, ranging from Corporate Events to Wedding Receptions, Birthday Parties to School Activity Days, Exhibitions to Village Fetes, Music Festivals to Prisons!
We look forward to working with you in the future and helping to make your event the success that you want it to be.
Contact Us if you require any more information.
Back to News