Are you after that adrenaline rush? Want something different and high octane? Then take a look at Altitude's Motorised Activities! From Segways to RAGE buggies and Giant Scalextric to Racing Simulators, we are sure to have something to suit your event!
Go fast or go home…
We have a variety of outdoor Motorised Activities for both individual and team use to test your skill and nerve. From two wheels to six, each offers its own unique experience!
Powerturn Buggies
Powerturn Buggies are twin engined twin seater off road buggies, which are fantastic fun and provide endless laughter! The unique driving style of the 6 wheeled Powerturn uses joysticks for steering and acceleration instead of a steering wheel and pedals. You will find that Powerturn wheelies under acceleration are commonplace bringing a smile to everyone's face!
Controlled like a tank, these off road buggies use skid steer steering so that they can turn tightly on the spot. With a separate control joystick working each engine they are simple to use and totally different to most other off road buggies out there today. This means they can be driven by a pair of drivers using a control lever each which is perfect for team building days where communication is the key. The Powerturn Buggies can be driven by anyone over the age of 16 and we can also take over 12's out in them for passenger rides. Check out the gallery for more pictures of Powerturns in action.
RAGE Buggies
The RAGE off-road buggy is a top of the range single seat off road buggy with an excellent chassis combined with long suspension travel making it the perfect driving experience and great for the adrenaline seekers in the group! Skill is the key to navigating our tricky course and the RAGE buggies provide fun and excitement and definitely gets that adrenaline flowing!
Rage Buggies are controlled by a standard steering wheel and pedal layout as you would find on a road car meaning they are very easy to get to grips with.  They have an automatic gearbox so there is no need to worry about changing gears. Jump straight in and set a lap record!
Segways
The Segway Human Transporter (HT) is unique – there has never been anything similar before. It is a self balancing personal transportation device which harnesses some of the most advanced, thoroughly tested technology ever created. The model that we run is the Segway X2 which is the latest specification off road version. They come complete with rugged looking wheel arches, alloy wheels and huge inflatable off road tyres. The motorised machines can operate on grass or hard standing and have no trouble on rougher dirt tracks either.
Segways require no special skills to use, as they take care of the balancing part for you, meaning virtually anyone can use one. They are very simple to use and take only minutes to get to grips with. To go forward, all you have to do is lean forwards, and the opposite for reverse. To turn to the right, simply lean the handlebar to the right and the opposite for left. It really couldn't be easier!
Blindfold Drive
Yes, Blindfold 4×4 Driving really is just what it sounds like! Take it in turns to navigate our 4×4 around a course whilst blindfolded! With an instructor by your side, a blindfolded driver will be directed by another team member sitting in the back. We just hope that you trust them and that you all know your left from your right!
Our Blindfold Drive 4×4 has a steering column that can change to Reverse Steer mode in under 30 seconds. Therefore you can hire just the 1 vehicle, but use it for 2 different activities which is perfect for low budget events or those with only a few participants attending.
Max Kat Amphibious Vehicles
Max Kats (not Max Cats!) are a quirky six wheel drive amphibious vehicle which is tiller steered.  Drivers will sit alongside an instructor and manoeuvre the vehicle around a course! Once you've mastered the fairly simple controls, Max Kats can take on any 4×4 course as they love tough terrain!  They do even float so dealing with some water will not be an issue!
Add all these unique aspects and you have truly got yourself a motorised activity people haven't done before!
When the lights go out…
We also have Motorised Activities for those indoor events too. Whether an evening event or an additional option for something different to our outdoor offerings, there again is something for everyone to enjoy.
Giant Scalextric
Our Giant Scalextric (slot car racing) set allows up to 4 players to race at any one time using the mini racing cars.
The Giant Scalextric track comes complete with a race marshal and a computerised lap timing system to work out exactly who is the fastest driver or team at your event. Race results are shown on the flat screen monitor and the track is illuminated by mini spotlights. It truly is a night-time racing experience, just try not to skid off into the barriers!
Line up at the start and hold your nerve as the lights count down and don't jump the start!
Multiplayer Racing Simulators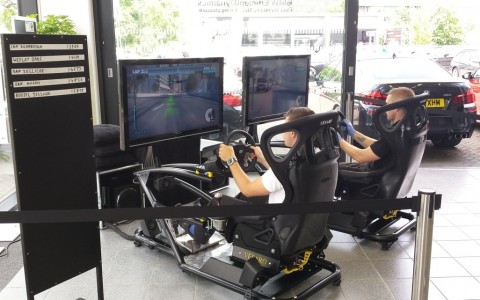 Jump into our top of the range Vison Racer style Racing Simulators and hit the top of the leaderboard.
The Multiplayer Racing Simulators can be linked up to play against each other on a head to head basis or they can be set up to each run different games so you can have a variety of disciplines represented including F1, Race, Rally and Sports Cars. We can set the Race Simulators up for best lap times too. With a massive range of vehicles and tracks (including the Top Gear test track) to satisfy most requests, the options are endless. All Racing Simulator hire packages include a Top Gear style scoreboard if required!
Batak Pro
An incredibly addictive game, Batak Pro tests people's reactions, including training those in Motorsports such as F1 and Rallycross stars! Batak Pro features 12 LED targets that are numbered and controlled by a dedicated on-board computer. The targets may be lit up in either random or repetitive ways depending on which of the game modes is selected. Games can be set to last between 30 seconds and 5 minutes if you want a real workout!
The Batak Pro reaction game is suitable for hire for both adults and children alike as using the various game modes we can easily turn off the highest rows of buttons for events with lots of children attending.
All the equipment listed above is owned and operated by Altitude Events Ltd. We also provide all ancillary equipment so all you need is to bring yourself/colleagues/friends. All our activities carry relevant safety certificates and electrical tests, they are checked and tested before every event. Staff are CRB/DBS checked and are First Aid trained. Please see each individual activity for required space for safe operation and any restrictions with regards to user heights/weights etc. Please don't hesitate to contact us with any questions.
Altitude Events is based in East Sussex but we also offer motorised activities for hire throughout West Sussex, Kent, Surrey, Hampshire, Berkshire, Essex, London, Hertfordshire and Buckinghamshire.
We look forward to working with you in the future and helping to make your event the success that you want it to be.
Back to News