Yes it is almost that time of year again and here at Altitude Events it looks to be the season of goodwill all over town!
But don't worry if you have not booked your Christmas party yet as there is still time to spice up your event with some of our activities! But do hurry, Santa doesn't wait around and some dates are fully booked!
To help you on your way, below are some top activities that go out to Christmas Parties and Events and are again proving popular for 2015!
Racing Simulators
Altitude's Multiplayer Racing Simulators are a must for any race or car fans! Providing thrills and spills, our simulators can be linked up to play against each other on a head to head basis or run singularly. If run separate they can be set up to each run different games so you can have a variety of disciplines represented including F1, Race, Rally and Sports Cars. Each Multiplayer Racing Simulator has a real racing seat, steering wheel (with force feedback function), pedals, gearstick, 40″ HD flat screen monitor and a full on board surround sound system including a Bass kicker mounted to the seat to emphasis the feel of the driving experience. We can also set the Racing Simulators up for head to head multiplayer racing or best lap times. The Racing Sims have a massive range of vehicles and tracks (including the Top Gear test track) to satisfy most requests. All Racing Simulator hire packages include a Top Gear style scoreboard if required as well for no additional fee.
Giant Scalextric
Our Giant Scalextric (slot car racing) set allows up to 4 players to race at any one time using the mini racing cars. The Giant Scalextric track comes complete with a race marshal and a computerised lap timing system to work out exactly who is the fastest driver or team at your event. Race results are shown on the flat screen monitor and the track is illuminated by mini spotlights giving an impressive visual!
Batak Pro/Strike-A-Light Light Reaction Games
Batak Pro features 12 LED targets that are numbered and arranged in a 'maximum stretch' type configuration on the Batak's frame which are then controlled by a dedicated on-board computer. The Batak Challenge is a 1 player light chaser  game whereby you have to hit the button that lights up as fast as possible before the next button will then illuminate. This continues until you run out of time with successful hits being scored on a central display screen. Games can be set to last between 30 seconds and 5 minutes if you want a real work out! The Batak Pro reaction game is suitable for hire for both adults and children alike as using the various game modes we can easily turn off the highest rows of buttons for events with lots of children attending.
Strike a Light is an exciting 2 player electronic reaction test game which has landed in the UK. Like Batak, Strike a Light is one of the most addictive games we have ever played, people just want to play and play!  Strike a Light is a high paced 2 player electronic reaction test game.  Not only is Strike a Light a great game to play but it's also a very entertaining game to watch and keeps you on edge for the best scores!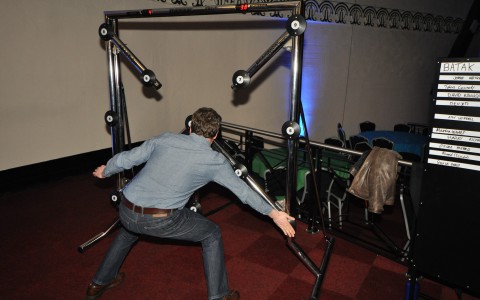 Digital Graffiti Wall
Step up and create your own digital masterpiece on the Digital Graffiti Wall using the latest in electronic spray cans, brushes and marker pens(!) You can create new artworks, change current pictures or 'improve' the looks of your friends and colleagues! We can even take your own photo, upload it onto the wall and then allow you to edit it with add on features to your hearts content!
Our Digital Graffiti Wall has a giant 8ft electronic screen which allows everyone to enjoy your masterpieces and the finished picture can also be printed out there and then for an everlasting memory!  All the 'creations' from an event can then be put onto a USB or we can run an upload service to put them straight onto social media feeds.
Grab A Grand Cash Grabber
Spent hours watching The Crystal Maze or Noel's House Party and thought you'd do better grabbing all those flying tokens? Complete with a digital timer and colour changing lighting effects, our sleek Grab a Grand Cash Grabber tank is definitely not to be missed! Beat the clock and gather as much cash as it swirls around you; how much can you collect in 30 seconds?! The Cash Grabber can be played with branded tickets, vouchers or even real money – anything that can be printed on paper!
Giant Operation
Altitude Event's fantastic life-size version of the popular children's electronic game "Operation".  The Giant Operation Game is also know as Saw Bones and is fantastic fun for all ages of players.  Giant Operation has an "operating table" which is around 6ft x 3ft in size and comes self-contained on its own purpose built stand.  The object of Giant Operation is to try and remove all 10 of the body pieces with your tweezers within 60 seconds without touching the sides and losing any/all of your 3 lives.  Steady hands are required as when lives are lost the game will give you warnings and funny comments!
Dance Mats
The Dance Mats definitely get those feet moving and bodies shaking! The mats that Altitude Events provide are commercial grade and finished in polished stainless steel which looks awesome.  We have a wide range of games and songs to play on the Dance Mats so we can find something from everyone's era and for everyone's ability level. Our Dance Mat hire packages come complete with 47″ screens (or 2m x 2m projection screens if preferred), external amp/speakers, coloured lighting and attractive purpose built stands with no straggly cables etc, these are professionally specified units with 5′ high mounted screens for the optimum game playing experience.
Laser Shot
Laser Shot is an indoor laser shooting game. Our Laser Shot is the newest model available and it has a wide range of over 20 different 1 or 2 player games to choose from meaning that it is a great activity for Indoor and Themed Events as we can theme the games to suit the event requirements such as for James Bond/007 nights and Wild West/Western nights as well as various others.
Retro Arcade Games Machine
This Games Machine is one of our BRAND NEW hire activities for 2015 and we think its fantastic!!  Play some all-time favourites with our Retro Arcade Games Machine! With over 2000 classic games available you are guaranteed to find a blast from the past! From Pacman to Space Invaders, Frogger to Street Fighter, this two player Retro Arcade Games Machine will bring back laughs and smiles whilst you set about beating your opponent! Get that Joystick and Button combination down to tee and play our Retro Arcade Games Machine!
Xbox/Wii
XBox's and Nintendo's now iconic consoles have revolutionised the computer console market and they are now available to hire as a fantastic add on activity suitable for all ages.
Both consoles come complete with 47″ screens (or 2m x 2m projection screens if preferred), external amp/speakers and attractive purpose built stands with no straggly cables etc, these are professionally specified units with 5′ high mounted screens for the optimum game playing experience.  We have a vast range of games for use with 4 player set ups on the Wii and Kinect on the Xbox.
Pub Games
On top of all that, Altitude now has a variety of pub games on offer. Take your pick from Air Hockey, Air Juggler, Bar Skittles, Basketball, Table Foosball and Table Tennis. Create your own package and enjoy games from the arcades and yesteryear!
BOOK NOW TO AVOID MISSING OUT!
Remember, as Altitude Events own and run the equipment directly, you are not paying an agents fee which keeps your costs down to a minimum as well as guaranteeing what will actually turn up on the day. All our Activities are covered under our £10 million PLI policy with full risk assessments.  Staff will be CRB/DBS checked and 1st aid trained.
Back to News