Catching the eye of potential clients and standing out against the crowd can be a hard task. With everyone vying for attention, you need to make that visual impact to draw people into your promotional offering. Altitude Events can help!
Whether is it something different for people to interact with, or to win prizes on, we have many activities to suit all types of Marketing and Promotional stands, exhibitions and events.
From challenging reaction games to those that require clients to hold their nerve, below we have put together the 5 most popular activities that will draw clients to your stand leaving you to interact with them.
And the best part? Here at Altitude Events, we provide everything required leaving you to interact with those all important clients.
5. Digital Graffiti Wall
Step up and create your own digital masterpiece on the Digital Graffiti Wall using the latest in electronic spray cans, brushes and marker pens(!). The wall allows clients to start with a clean slate, pre-installed pictures, your company logo or we can take pictures on site and upload creating new artworks throughout the day!
And once complete, why not print it out and keep or, better still, upload the design straight to social media via our set-up (internet connectivity required). Min age 8yrs.
Find out more about our Digital Graffiti Wall Hire here!
4. Giant Operation!
Step up to the table and test your nerve with our Giant Operation. This life-size version of the classic children's game really gets clients pulses racing! Remove the body parts in the quickest time possible without touching the sides or the patient may 'call his lawyer!'. This truly unique and different activity is fun to both watch and play!
Find out more about our Giant Operation Hire here!
3. Race Simulators
Got a little bit of space to fill? For those larger areas and stands, our Multiplayer Racing Simulators are the perfect activity to allow clients to test their driving skills, have fun and be drawn towards your brand.
The Racing Simulators can be linked up to play against each other on a head to head basis or they can be set up to each run different games so you can have a variety of disciplines represented including F1, Race, Rally and Sports Cars.
Find out more about our Racing Simulator Hire here!
2. Batak Pro
Think you have good reactions? The Batak Pro is an incredibly addictive game that puts this to the test. Featuring 12 LED targets that light up randomly, players have to hold their nerve whilst also testing their response times.
Games can be set to last between 30 seconds and 5 minutes if you want a real work out! The Batak Pro reaction game is suitable to hire for both adults and children alike as using the various game modes we can easily turn off the highest rows of buttons for events with lots of children attending.
Find out more about our Batak Pro Hire here!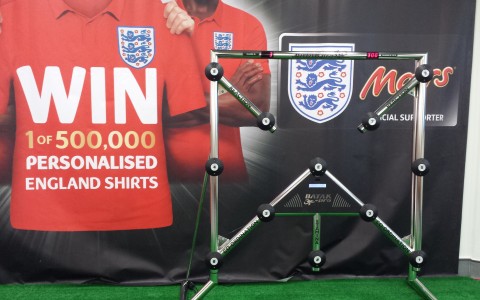 And in at number 1: Grab-A-Grand Cash Grabber
What a crowd pleaser! The classic Crystal Maze ending is hugely popular on Exhibitions stands and it really draws attention! Complete with a digital timer and colour changing lighting effects, beat the clock and gather as much cash as it swirls around you; how much can you collect in 30 seconds?!
The Cash Grabber can be played with branded tickets, vouchers or even real money – anything that can be printed on paper! Perfect for clients to get involved and have fun! Min age 6yrs.
Find out more about our Grab-A-Grand Cash Grabber Hire here!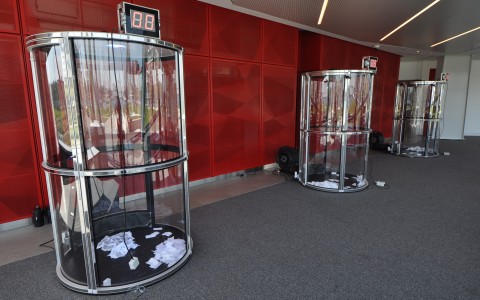 Back to News