Want to feel the adrenaline rush on our Rage Buggies? Go off-roading with our Max Kat Amphibious Vehicles? Or even test your reactions with our Batak Pro light reaction game (as used by F1 drivers!), then Altitude has something for you!
Whether motorsport is your thing, reaching top speeds, navigating tricky courses or just beating your rivals; our range of of outdoor and indoor activities can make your event memorable for all the right reasons!
Rage Buggies
The RAGE! is a top of the range off road buggy with an excellent chassis combined with long travel suspension making it the perfect driving experience and great for the adrenaline seekers in the group!  Rage buggies are controlled by a standard steering wheel and pedals.
See more here.
Powerturn Buggies
Powerturns are twin engined twin seater off road buggies. The unique driving style of the 6 wheeled Powerturn uses joysticks for skid steering and acceleration instead of a steering wheel and pedals. You will find that Powerturn wheelies under acceleration are commonplace bringing a smile to everyone's face!
See more here.
Max Kat Amphibious Vehicles
Max Kats are a quirky six wheel drive amphibious vehicle which is tiller steered.  Sit along side your instructor and manoeuvre the buggy around a course! Once you've mastered the controls, Max Kats can take on any 4×4 course and tough terrain!
See more here.
Blindfold Drive
Take it in turns to navigate our 4×4 around a course whilst blindfolded! With an instructor by your side, a blindfolded driver will be directed by another team member sitting in the back. We just hope that you trust them and that you all know your left from your right!
See more here.
Reverse Steer Driving
Reverse Steer 4×4 Driving really is exactly as daft as it sounds… When you turn the steering wheel to the left, the 4×4 goes to the right and when you turn to the right, the 4×4 goes to the left!! Reverse Steer 4×4 Driving is guaranteed to cause a lot of laughs and probably a bit of head scratching too!!
See more here.
Segways
Step on to one of our off road Segways for "The Segway Experience" and tackle a tricky track uses skill and speed! Segways are emission free and virtually silent compared to anything else motorised so they also have a very green image. Segways leave a venue in much better condition than other motorised activities and guests can ride without getting plastered in mud, even in the depths of Winter or the wettest of English Summers!
See more here.
Race Simulators
Jump into a race seat and race head to head (or individually) on a variety of disciplines including F1, Race, Rally and Sports Cars.  We can set the Racing Simulators up for head to head multiplayer racing or best lap times. The Racing Sims have a massive range of vehicles and tracks (including the Top Gear test track) to satisfy most requests.
See more here.
Nintendo Wii
Nintendo's now iconic Wii console completely revolutionised the computer gaming market when it was launched and they are now available as an activity suitable for all ages.  The Nintendo Wii's that Altitude Events hire come with 47″ screens and are supplied with 4 x WiiMotes and 4 x Nunchuks. We can also supply 4 steering wheels for racing games including the much-loved Mario Kart!
See more here.
Giant Scalextric
Our Giant Scalextric (slot car racing) set allows up to 4 players to race at any one time using the mini racing cars. The Giant Scalextric track comes complete with a race marshal and a computerised lap timing system to work out exactly who is the fastest driver or team at your event. Race results are shown on the flat screen monitor and the track is illuminated by mini spotlights.
See more here.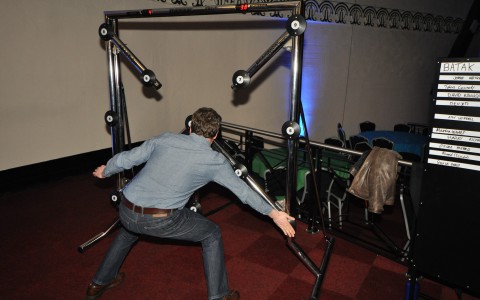 Batak Pro
The Batak Pro is an incredibly addictive game that tests reactions. Altitude Events provide the latest top of the range model of Batak which is called the Batak Pro. Batak Pro features 12 LED targets that are numbered and arranged in a 'maximum stretch' type configuration on the frame which are then controlled by an on-board computer. Used by F1 and other sports to test their athlete's reactions!
See more here.
You can also Contact Us if you have any questions or would like a quote.
Back to News