This year has seen a huge rise in Shopping Centre Promotions that we have attended and what a hit they have been!
From external suppliers to the shopping centres themselves, we have been out and about with a range of our equipment engaging with shoppers and helping spread the word on products, special events and promotions.
Here at Altitude Events we can add that something special, that WOW factor! All our activities come complete with a member of staff to run it which leaves you to engage with the the crowds! Below are just a few of the favourites but take a look here as we there is so much more we can offer!
Selfie Mirror
There are many photo booths out there, so we wanted to bring you something different and more unique! This fully animated magic mirror not only takes your photo, but also provides fun responses both on screen and verbally that definately get you smiling!
Hire of the Magic Selfie Mirror comes complete with a prop box for help with taking that ultimate selfie!
For use by up to 5 or 6 people at a time, the mirror is fully self sufficient and only needs a mains power socket to run. Best of all, you will get a print out of the photo ready to take away instantly which can also be branded!
Grab-A-Grand
Did you spend hours watching The Crystal Maze or Noel's House Party and thought you'd do better grabbing all those flying tokens? Now you can put your money where your mouth is with Altitude's very own Grab a Grand Cash Grabber!
Complete with a digital timer and colour changing lighting effects, our sleek Grab a Grand tank is definitely a real crowd gatherer! Beat the clock and gather as much cash as it swirls around you; how much can you collect in 30 seconds?!
The Cash Grabber can be played with branded tickets, vouchers or even real money – anything that can be printed on paper!  We have even had £1000 of crisp £5 notes in play though you do have to provide them yourself!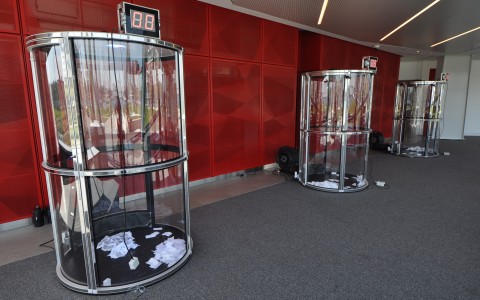 Digital Graffiti Wall
Providing a completely unique and exciting experience is the Digital Graffiti Wall! Complete with its 8ft screen, the Wall can draw in the crowds and get them involved in creating a digital masterpiece! With a large range of of sprays, brushes and pen effects available from our unique electronic spray-cans the choices are virtually endless! The many different colours and styles allow you to show off your creativity and express yourself!
We can provide a blank canvas to draw on, or you can create your artwork on one of our many background images and themes!
Once you are satisfied with your artistry, you can print out your creation on our photo printer. And if you want to share on-line (internet connection required) through Twitter or Facebook, then you can do that too, showing off your masterpiece to everyone!
Climbing Wall
Altitude's eye catching 8m (24ft) high Mobile Rock Climbing Wall provides more than just a fun test for the climber!
With 4 faces, the Mobile Rockwall has a variety of challenges and offers a great opportunity for teamwork and communication from those watching! Encouragement is a key factor to reach the top!
Featuring automatic belay systems and allowing up to 4 climbers to climb simultaneously in complete safety; there are many different climbing routes meaning that we can find a challenge for anyone and everyone!
Altitude's event rental service is based out of East Sussex and we also regularly provide activities to events in West Sussex, Surrey, Kent, London, Hampshire, Berkshire, Essex, Hertfordshire, Buckinghamshire and further afield. Towns we operate in with our mobile activity hire include Uckfield, Eastbourne, Hastings, Ashford, Folkestone, Brighton, Littlehampton, Burgess Hill, Haywards Heath, East Grinstead, Horsham, Crawley, Gatwick, Redhill, Reigate, Dorking, Leatherhead, Cobham, Walton, Guildford, Farnham, Godalming, Aldershot, Epsom, Sutton, Croydon, Oxted, Caterham, Sevenoaks, Tonbridge, Tunbridge Wells, Cranbrook, Bromley, Orpington, Maidstone, Dartford, Rochester, Chatham, Sittingbourne, Chichester, Worthing, Bexhill.
Please also remember that as Altitude Events own and run the equipment directly, you are not paying an agents fee which keeps your costs down to a minimum as well as guaranteeing what will actually turn up on the day. All our Activities are covered under our £10 million PLI policy and come with full risk assessments.  Staff will be CRB/DBS checked and 1st aid trained.
Back to News