Summer 2016 sees the return of the Summer Olympics and a first appearance in Rio, Brazil. Running from August 5th to August 21st, it is time to start thinking about your Rio Olympics themed event!
As with any sporting competition, here at Altitude Events we have a wide range of activities to make you Rio Olympics themed event a success! But don't forget to book soon, dates in summer are getting full already!
Take a look below at some suggested activities, Olympic Sports no less, to make your Rio Olympics themed event a success!
Archery
Archery really is the sport of Kings and needs little introduction! The tense atmosphere in the arena with the shooter going for gold! Our GNAS and Archery-GB qualified instructors can bring top quality instruction sessions to School lessons, Company Family Fundays, Activity Away Days and Corporate Events alike.
Here at Altitude Events we like to mix the sessions up with some point scoring as well as fun games. This guarantees something for everyone to partake in and our provision of this activity will be tailored to suit the clients on the day and their needs. Our hire package is suitable for adults or children (over 8yrs) or a mixture of both. We have a wide range of bows and arrows available to cater for most people and situations.
Head over here to find out more about our Archery hire.
Basketball
Remember the 'Copper Box' from London 2012 that hosted the Basketball tournament? Well now create you own tournament this summer!
Altitude Events' Electronic Double Shot Basketball game is one of our BRAND NEW and addictive hire activities. Have hours of fun on your own or by challenging your friends with this arcade style electronic Basketball game. It is fully equipped with an LED electronic scoreboard allowing you to easily keep track of the winner!
The Double Shot Basketball comes complete with a return chute, durable 12″ steel hoops, 8 different game modes and several basketballs. Perfect for anyone 8yrs and above.
Head over here to find out more about our Basketball hire.
Boxing (Wii)
Boxing, as an Olympic sport is growing and Altitude can bring it to you by using Nintendo's now iconic Wii console! Complete with a 47″ screen (or 2m x 2m projection screens if preferred), external amp/speakers and attractive purpose built stands with no straggly cables etc, these are professionally specified units with 5′ high mounted screens for the optimum game playing experience.
Each Wii is supplied with a variety of games which, for Olympic year, includes Wii Boxing as Sonic Olympics.
Head over here to find out more about our Boxing (Wii) hire.
Crazy Golf & Golf Chipping
Rio's weather is going to be perfect for players to hit the greens! Golf is a new sport for this summer (along with Rugby) and here at Altitude Events we have two options for you, Crazy Golf and Golf Chipping!
Altitudes Mobile Crazy Golf course was recently built by our own designers and is available for you to hire now! Altitude's 9 hole Mobile Crazy Golf Course comes complete with an operator, a range of clubs, balls and scorecards.
There is no minimum or maximum age for the Portable Crazy Golf and really is THE attraction for the whole family. Each hole of the Mobile Crazy Golf Course is totally unique and we have humps, tunnels, loop the loops, themed holes and even a Windmill!
Head over here to find out more about our Crazy Golf hire.
Golf Chipping takes place in our Multi-Use Shooting Gallery. Complete with the inflatable surround, clubs, balls and a range of nets and point scoring holes – this activity provide hours of excitement, fun and competitiveness with its tricky and challenging point scoring backboard!
Can you keep your nerve and hit the ball true?!
An all-together different experience from Crazy Golf!
Head over here to find out more about our Golf Chipping hire.
Human Table Football
Football, or Soccer(!), grew on the UK population in 2012 when Team GB took to the field. With the Women's team proving to be more successful (and growing ever since) than the men's, the nation really got involved in the action.
Now you can bring the football to your event with Altitude Events' Human Table Football.
This human size version of the classic foosball game provides hours of fun for adults and children alike (8yrs and above). The nature of the game makes it a level playing field meaning it proves popular to those interested in football or not. Get you team of 5 to the final and grab that Gold!
Head over here to find out more about our Human Table Football hire.
Laser Clays
As with Archery, Shooting is one that that gets the pulses racing! Tense on the firing line, PULL! HIT! TWICE!
Laser Clay Pigeon Shooting is an electronic version of the popular country sport of Clay Pigeon Shooting and its one of our favourite activities. Laser Clay Pigeon Shooting uses real (but de-activated) shotguns and players shoot laser beams at plastic discs fired from a trap. The discs are then collected and re-used so no waste is left on the ground.
Using the latest system and scoreboards for increased accuracy, here at Altitude Events we can take you through four different game modes depending on time available. With 5 shooters at a time, we guarantee fun and excitement as you track the clay before pulling the trigger! Once started you won't want to stop!
Head over here to find out more about our Laser Clays hire.
Table Tennis
An Olympic Sport since 1988, Table Tennis has provided hours of entertainment on our TV screen at the Olympics. How the professionals keep the ball on that table whilst hitting it so hard is outstanding! Cannot. Look. Away!
Our Table Tennis Table is one of our BRAND NEW hire activities. The Table that we hire is a top quality commercial unit with a playing surface over 9ft in length.  It comes with 4 bats and balls.
Whether your game is Table Tennis or not, it is fun and challenging for all the family.
Head over here to find out more about our Table Tennis hire.
Volleyball
Now there is no better place in the world than Rio for Volleyball surely! It's sandy beaches, warm weather and carnival atmosphere cannot be rivalled anywhere else…except your event obviously!
Inflatable Beach Volleyball is one of our all time favourite hire activities and one of our most addictive games. The huge Volleyball Inflatable measures over 20ft x 40ft and is suitable for adults and children (8yrs and up) alike. Our Inflatable Beach Volleyball can play games of anything up to 4 a side but it also works very well with smaller numbers such as doubles meaning it's very flexible in its use.
Head over here to find out more about our Volleyball hire.
Wacky Olympics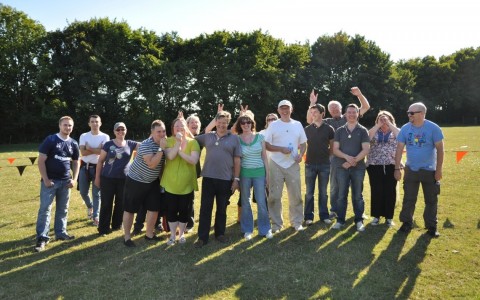 With the 2016 Rio Games around the corner, Altitude's 'Wacky Olympic' Corporate Team Building Event embraces everything that is true and great about these iconic occasions. Our Wacky Olympics Team Building event is the perfect cross between a 'School Sports Day' and the classic 'It's a Knockout' integrating huge inflatables with the more well-known Olympic pastimes. Our collection of races, football, shooting, beach volleyball, swimming and even equestrian or gymnastic activities provide something for everyone irrespective of their age or ability! In fact, in all of our Wacky Olympic disciplines, fitness levels have very little bearing on success! And although our stadium may not be as impressive as the one in Stratford or the 'Birds Nest' in Beijing we promise to bring the arena alive with colour, energy and laughter.
Head over here to find out more about our Wacky Olympics Days.
From Altitude's base in East Sussex our instructors have brought these fantastic activities to events in most counties across the Southeast over the past few years including West Sussex, Surrey, Kent, Essex, Hampshire, London, Berkshire and Buckinghamshire. 
Contact us to book your perfect Rio Olympics themed event!
Back to News